Install a Plugin using WordPress Plugin Search
The easiest way of installing a WordPress plugin is to use the plugin search. The only downside of this option is that a plugin must be in the WordPress plugin directory which is limited to only free plugins.
First thing you need to visit the Plugins » Add New page inside your WordPress admin area.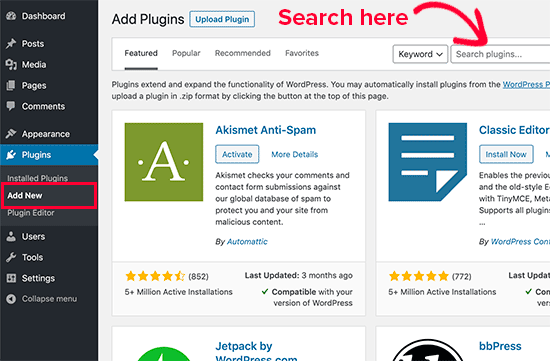 You will see a screen like the one in the screenshot above. Find the plugin by typing the plugin name or the functionality you are looking for. After that, you will see a bunch of listings like the example below: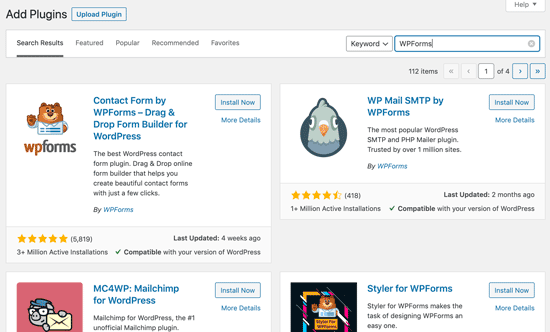 You can pick the plugin that is best for you. Since in our search, we were looking for WPForms which is the best WordPress contact form plugin, we'll click the 'Install Now' button next to it.
WordPress will now download and install the plugin for you. After this, you'll notice the 'Install Now' button will change into the 'Activate' button.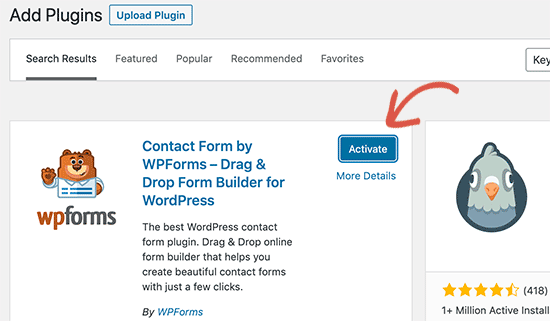 A WordPress plugin can be installed on your site, but it will not work unless you activate it. So go ahead and click on the activate button to start using that plugin on your WordPress site.
That's all, you have successfully installed your first WordPress plugin.
The next step is to configure the plugin settings. These settings will vary for each plugin therefore we will not be covering that in this post.
ACKNOWLEDGEMENT
Thank you Visiting www.tambua.africa.
We are pleased that you value us very much. Tambua Africa is always on the front run to keep you updated on anything that happens around the globe. Our slogan still stands "Fetching news into The African Continent while taking Africa's to the Globe."
We also have special thanks to our administrator Mr Amos Wanjala for giving us opportunity to reach out to the World.
He is an Administrator from Kenya who is the pillar and pioneer TAMBUA AFRICA. He has been using the platform to promote Kenyan content too from rising talents.
Please CLICK HERE to Subscribe to our YOUTUBE CHANNEL or Search Tambua Africa News and Subscribe. Blessed
We never make profit but we profit the less profited.
FOR FAST LATEST UPDATES ON Breaking News, Sports, Politics, Lifestyles, CLICK HERE TO JOIN OUR WHATSAPP GROUP
Get Tambua Africa News fast loading Android Application Here.
TAMBUA AFRICA NEWS would love your feedback. Post a review to our profile. https://g.page/r/CdZMye-m1FTVEBI/review?np
Phone : 0713606650
HASHTAG: #TambuaAfrica